For some of us, the college experience may be a distant memory. For others, however, it's still fresh reality. Remember the time before a new semester started and you had to pick a handful of courses? What was that process like for you?

In some institutions, the selection process is pretty straight forward, but for others the process can be overwhelming. Time spent with an advisor usually focuses on logistical details and degree requirements, which leaves little to no time at all for other important considerations and preferences.

What if you could harness the power of machine learning and cognitive type solutions to improve the selection process by optimizing the selection criteria? For students, the benefits are obvious – the decision process would be tailored to their needs and wants with respect to available schedule, interests, learning styles, personality and more. Furthermore, institutions that possess such an instrument would be more likely to attract and retain students for longer periods of time thanks to a better fit for students' specific needs.

Minerva Cognitive Solutions (Minerva CS) from Lighthouse is such a decision support solution, which takes advantage of IBM® Watson™ API's to find courses that meet many criteria and is stored as structured and unstructured data.

Minerva CS was partially designed using IBM Design Thinking methodology (www.ibm.com/design/thinking) and developed to a minimum viable product (MVP) to compete in the IBM Watson build challenge to develop a cognitive technology business plan. Minerva was chosen as a finalist to then build a working prototype. For such demonstration purposes, Minerva CS MVP was built to assume a generic institution type but was designed to easily adjust to any specific institution that may have any number of unique requirements.

The current version of Minerva CS uses the following criteria to match students with courses:
Interests and individual goals – The student is asked to write a few paragraphs about his/her academic aspirations, learning style, etc. Based on the submitted essay (at time of application) the student gets to view an analysis of their personality which they can then use to enter as part of the free text paragraph.
Preferred location – based on geographic location of the various campuses utilizing Location Intelligence from Pitney Bowes (https://www.pitneybowes.com/us/location-intelligence.html), the recognized leader in Geospatial and Demographic information sets.
Class Size Preference
Class Type Preference - Examples of types are: Lecture, Workshop, Online, etc.
Availability – The student is able to choose their preferred time(s) for taking courses
Based on specific degree requirements and scores for each criterion, a total score is calculated for applicable courses and presented back to the student for selection.
The student can then examine the course attributes and description, adjust any of their preferences, and compose a list of selected courses which can later be submitted to the advisor for further approval or discussion.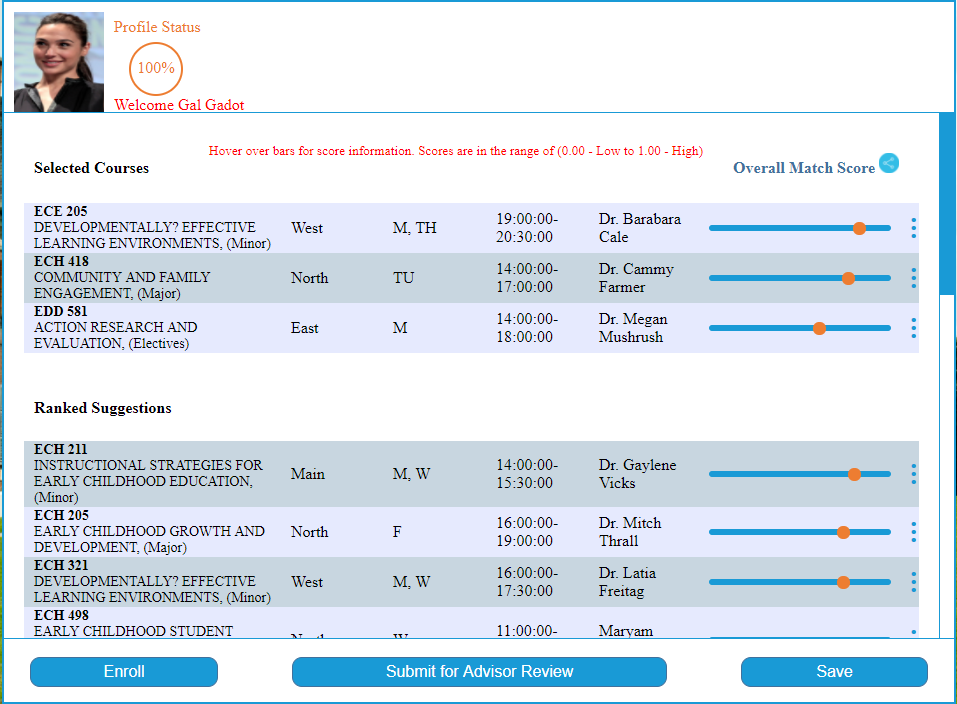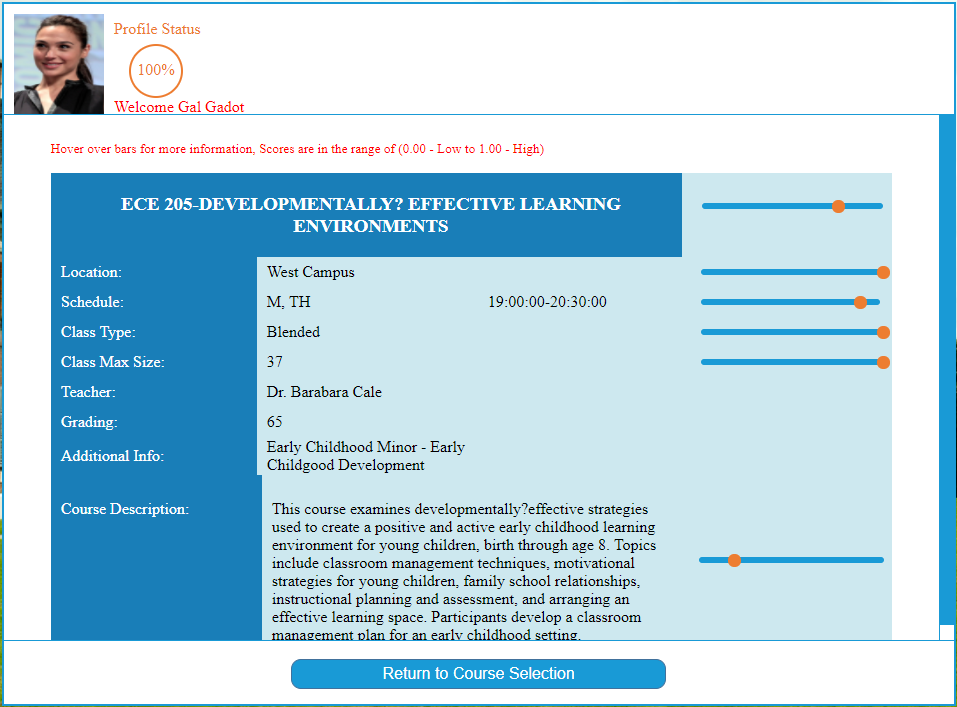 In finding matches based on the free text entry, two IBM Watson API's are utilized: IBM Watson Natural Language Understanding, which parses the text and extracts key concepts, and IBM Watson Discovery™ Service that takes in key concepts and cognitively searches among all applicable courses.
The accuracy of Watson Discovery is continuously enhanced as more and more students use Minerva and "train" Watson with relevant or non-relevant results.
The institution can further improve the accuracy by using IBM Knowledge Studio to define relevant entities and relationships that are domain specific – more on that in another blog.
As mentioned before, Minerva is a first release, and future releases will be enhanced based on feedback, which could include other elements such as course and professor rankings, student-professor personality match, a chatbot replacing the text entry to a more conversational experience, and more!
In summary, Minerva CS enhances the experience for students searching for the best academic path as well as the task for institutions looking to attract and retain students by offering quality services to improve the likelihood of student success.
To learn more about IBM Watson, Pitney Bowes Location Intelligence, or how Lighthouse is using Minerva CS to help transform the Higher Ed. industry, please reach out to our team or leave a comment below.
---
Lighthouse Computer Services is a Platinum IBM Business Partner in IBM PartnerWorld, a program that gives channel partners the resources and tools they need to succeed in the Cognitive Era. For more on the Watson Build, click here. IBM, the IBM logo, ibm.com, and the IBM Business Partner Emblem are trademarks or registered trademarks of International Business Machines Corporation in the United States, other countries, or both. A current list of IBM trademarks is available on the Web at "Copyright and trademark information" at www.ibm.com/legal/copytrade.shtml.

Lighthouse Computer Services is a Business Partner of Pitney Bowes Inc. PITNEY BOWES, the Corporate Logo and other secondary marks are trademarks of Pitney Bowes Inc. All other trademarks are the intellectual property of their respective owners. "Copyright, trademark information and privacy statement is available at https://www.pitneybowes.com/us/legal.html.