As businesses expand further into the digital world, cutting-edge security intelligence is more important than ever. By protecting infrastructure with IBM QRadar, companies are identifying and responding to threats fast, boosting staff efficiency with automation and cutting out security breaches. Let's look at some interesting ways companies have used QRadar to transform their security posture:
1) Wimbledon uses Watson to achieve a breach-free tournament: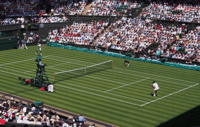 To drive brand value, Wimbledon delivers real-time coverage of their tennis tournament. But, these digital experiences bring increased risks from cybercrime. In 2017, QRadar helped Wimbledon achieve zero breaches to their site and brand—despite there being 200 million security events during the tournament. Watson-powered threat investigations were 60x faster than manual investigations, and 5x more security incidents were investigated during the tournament.
2) The University of New Brunswick deploys a digital immune system:
The University of New Brunswick experiences around 51 million intrusion attempts each week, ranging from intellectual property theft to advanced DDoS attacks. The university built a digital immune system, with QRadar at the core, that thwarted threats to their network and data. Now they are identifying and responding to security attacks in near-real-time and automating SIEM to save thousands of staff hours each month.
3) The US Open delivers great digital experiences protected by QRadar:
The US Open serves up online content for fans using data centers and cloud resources. With 90 million web and app visits, the US Open is a target for online security threats. By using QRadar, the US Tennis Association (USTA) gained a single view of security events to protect the US Open. With rapid identification and response to malicious attacks, the US Open is well-equipped to defend their data and infrastructure.
4) Sogeti Luxembourg cuts SOC response times from days to minutes:
A leading provider of software testing, Sogeti Luxembourg needed their security operations center (SOC) analysts to rapidly analyze potential threats in a rising sea of threat data. With QRadar and Watson, Sogeti SOC teams analyze information 50 percent faster, and they prioritize and respond to threats in minutes versus hours or days.
5) MyEyeDr. transforms data governance and anomaly detection:
To protect patient data, a US optometry company, MyEyeDr., needed to analyze log data and get more visibility to who was accessing what resources on their systems. Replacing their manual processes, they deployed several IBM solutions, including QRadar, to gain insight, intelligence and control across their growing environment. They identified hidden anomalies to stop attacks before they happen, reduced anomaly identification from weeks to seconds and accelerated HIPAA and PCI compliance reporting.
Let's transform your security posture with QRadar
Lighthouse is here to help you protect your infrastructure against a growing number of cyber threats. We can help you deploy IBM QRadar to empower your security teams, improve threat identification and speed incident response times. Let's talk about your next best move.